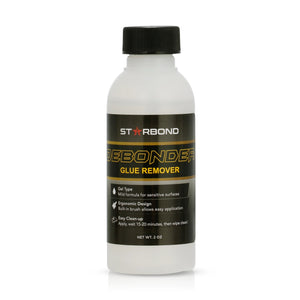 Starbond Debonder 2oz
Starbond CA Glue Remover (Debonder) allows you to use Starbond CA glues with confidence!  Never worry about gluing your fingers together again!  To clean up spills, just use the built-in brush cap to apply Starbond Debonder to the dried glue.  Wait 10-15 minutes and wipe off the loosened glue residue.  For harder-to-remove spots, allow the debonder to sit for 20-30 minutes, then use an abrasive to scrape away the softened residue. 
***Spot test delicate surfaces before using debonder, and always remember to follow safety precautions when working with any CA glue.