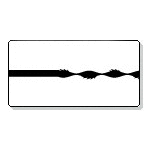 Spiral Scroll Saw Blades Dozen
These blades saw in all directions and have 360° cutting capability - you never have to turn the workpiece. Use for cutting all types of materials including wood, plastic, non-ferrous metals, plaster, bone, horn, etc. For use in power scroll saws and hand-held fret and jewelers saw frames. Cutting speed and finish depend on material thickness and number of teeth per inch. These premium blades are made of high carbon steel, hardened and tempered to stay sharper longer. Pinless.
IMPORTANT: These blades are supplied spiraled end-to-end, NOT flat on the ends.
They will flatten out in your blade holding device, however, and there is no performance impact from any additional twist they may receive from installation. If your blade mounting system does not readily accept the spiral end, you may also use pliers to flatten the ends prior to installation.
| | | | |
| --- | --- | --- | --- |
| Item | Application | TPI | Thickness |
| SB002 | For cutting all types of materials up to 3/8" | 48 | .024 |
| SB01 | For cutting all types of materials up to 3/8" | 46 | .026 |
| SB02 | For cutting all types of materials up to 3/8" | 44 | .030 |
| SB03 | For cutting all types of materials up to 5/8" | 40 | .031 |
| SB04 | For cutting all types of materials up to 5/8" | 37 | .033 |
| SB05 | For cutting all types of materials up to 1" | 34 | .037 |
| SB06 | For cutting all types of materials up to 1" | 34 | .039 |