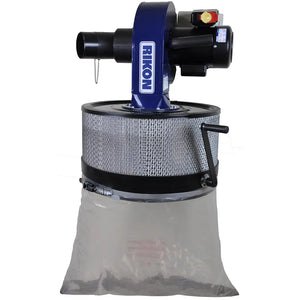 RIKON 1hp Wall-Mount Dust Collector, 60-101
Actual Shipping applies to Rikon products.  Call or email for a shipping quote.
 Save Shop Space With Wall Mounted Dust Collector

 1 HP TEFC 120/240V Motor

 Powerful 800 or 1,100 CFM Suction

 4" (2) or 5" Hose Inlet Options

 Pleated Canister Filter is 1 Micron Rated

 Disposable 1.5 cu/ft Plastic Debris Bag
1 HP Wall Mounted Dust Collector is perfect for small shops that have limited floor space. Mounting this powerful dust collector on a wall near your most used machines is ideal for always having it connected and operating while you work. The 10" spiral impeller creates big CFM suction to whisk away the wood chips and dust from bandsaws, planers, jointers or sanders – 800 CFM with 4" or 1,100 CFM with 5" inlet. A dual 4" inlet fitting with cover cap permits the collector to be connected to 1 or 2 machines.

Just cap one of the inlets for full air drawing power on one machine, then easily switch inlets to use with the other machine! Polyester spun bond pleated canister filter includes an internal flapper to clean its air filtering fabric. Just turn the units side handle to activate the cleaner! All the wood collection debris falls into the bottom clear plastic bag, which is easy to dispose. Dust Collector includes wall mounting bracket, pleated canister filter with cleaning handle assembly, disposable plastic dust bag, strap clamp, dual 4" inlet fitting, 4" inlet cap, on/off safety switch and instruction manual.