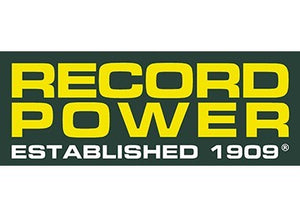 Record Power Heavy Duty Bowl Turners Collection
$38999

$389.99

Save $67.48
---
---
This collection includes the following items; 
SC4 - Package Deal with 2572 Faceplate- with thread adapter, Power Grip - 100mm Dovetail and Deep Gripper Jaw, and Remounting Jaw-Mega - with Buffer Kit. 
1.SC4 - Package Deal with 2572 Faceplate
The SC4 is perfect for the demanding woodturner, being capable of holding large work pieces yet possessing the precision and compactness to handle more delicate work. This model features an enclosed back with full indexing plate and has pinions driven by a long ball ended hex key to make access easy, even when large work pieces are mounted.
This chuck is an insert model (insert sold separately) which means it is easily future proofed against upgrades and can be used on multiple lathes, even if they have different spindle threads (additional optional inserts required).
Supplied complete with deep wood screw, standard jaws and 87 mm faceplate, this package offers professional performance at an exceptionally affordable price.

2.Power Grip - 100mm Dovetail and Deep Gripper Jaw
Featuring a specialized dovetail profile, these jaws are ideal for turning large bowls, green timber and hollow vessels. They combine the profile of our previously popular 100 mm dovetail jaws with a deep body and internal teeth to improve versatility. The outer dovetail jaws are ideal for large bowls or platters, particularly when gripping onto a spigot and the deep internal toothed body is ideal for large spigots of large hollow vessels.
Expansion: 94 - 114 mm
Contraction Spigot: 76 - 95 mm
Contraction Square: 54 - 74 mm
3.Remounting Jaw-Mega - with Buffer Kit
In response to many requests, we have increased the capacity of our larger remounting jaws, whilst ensuring they can still clear the bed of lathes with the popular 12" swing capacity and are capable of holding 275 mm (10 3/4") diameter bowls in contraction mode. Remounting jaws are incredibly popular due to their flexibility. They work in both contraction and expansion modes and can be fitted behind other jaw sets to create bespoke set-ups to make turning more efficient. The soft stoppers are designed to hold without causing damage, making them ideal for remounting finished or partly finished objects for further work.