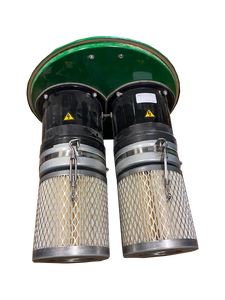 NanoMax CV Cartridge FIlters for Camvac Dust Extractors
Introducing the new NanoMax CV filters for your Camvac Dust Extractor! These filters offer a number of key benefits compared to the standard Camvac filters. One filter required per motor.
-10 sq. ft of filter material per filter. Over 2x as much material as the standard filters leading to better overall airflow. 
-MERV 15 Nano fibre filtration material. Greater than 90% efficiency on particulate in the 1-3 micron range and 85% – 95% efficiency in the .3 – 1 micron range. *It should be noted that the ASHRAE 52.2 test procedure returns the MINIMUM efficiency value for the tested filter. In actual use, once the filters have been coated with particulate, the filter efficiency would be much higher than that reported through the test.
-Filters can be "pulse cleaned" manually. They can be cleaned in seconds without removing the Camvac lid. No more messy cleanup!
-Made in Canada