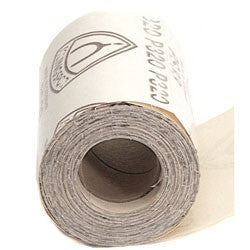 4-1/2" x 10m Adhesive PSA Roll
This STEARATE roll will offer you great performance and economy as well. You'll save money buying rolls and cutting the sheets for your PSA sheet sanders yourself. You'll also come up with your own hand sanding devices for this useful sticky-backed material. This is our premium stearate material that consists of our top quality aluminium oxide grains held to a heavy C-weight paper backing with heat resistant resins and finally coated with our zinc stearate to reduce loading.
These rolls are recommended for bare wood sanding and autobody use.