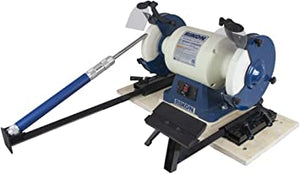 RIKON Pro Sharpening System 82-1005
Actual Shipping applies to Rikon products.  Call or email for a shipping quote.
Sharpen your woodturning tools like a PRO! Used with your 6" or 8" bench grinder, this System includes the basic set-up for putting perfect, sharp edges on gouges, chisels, scrapers and other blades. The 2 adjustable arms allow for easy setting of different grinding angles for your shop tools.  Click for PDF
Set includes: Locking Base Assemblies (2), Long V-Arm, Short 90 degree Platform Arm, Tool Rest Platform for Short Arm, Adjustable Lever Handle and Mounting Hardware.