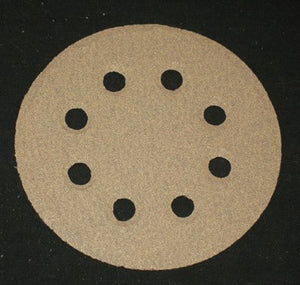 4.5" x 8 hole Hook & Loop Discs 100pc
As many of you already know, Klingspor's stearate coated, hook and loop discs are absolutely top of the line, yet still economical. Many of our customers refuse to use any other brand. These discs are a premium product that stand up to the hardest hardwoods, won't load up with pine and spruce, and hold up really well on painted or varnished surfaces and light metal work. The best stearate coated sandpaper for the money you will ever use! These are the freshest discs available to us.
To get the most life out of your sandpaper, store them in an airtight container (such as a ziploc baggie). Also available in PSA discs, hook and loop rolls, and 9" x 11" sheets.